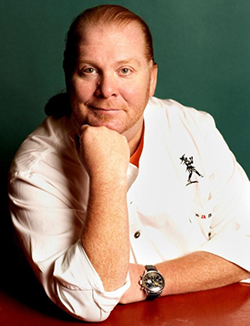 Join Chef and New York Botanical Garden Board Member Mario Batali on a culinary adventure on Monday, June 10, from 4–8 p.m., with a delicious picnic supper and activities, and watch him in action at a live cooking demonstration. All proceeds benefit the development of the Botanical Garden's new Edible Academy, hub of the children's vegetable gardening program.
The Edible Academy will be a dramatic expansion of the Ruth Rea Howell Family Garden, creating a year-round learning center that will educate 80,000 children, teachers, families, and adults each year about the important connections between plants, gardening, nutrition, and health, expanding on the wonderful programs already in place at the Family Garden.
Tickets for Mario's cooking demo and book signing start at $40 for adults, $15 for kids. For tickets and information, visit nybg.org/familypicnic, call 718.817.8773, or email cbalkonis@nybg.org.
This exciting culinary adventure begins with a delicious picnic supper designed personally by Mario. Enjoy your picnic on the beautiful Garden grounds, then dig in to some hands-on fun in the Ruth Rea Howell Family Garden. Learn to harvest vegetables through engaging hands-on tutorials, compete in a corn-shucking contest, follow clues to Mario's mystery ingredient, climb a giant oak tree, see a European eagle owl, make your own chef's hat, harvest bags, seed pets, pickles, and more.
Schedule of Events
4–7 p.m. Garden Picnic and Activities
5:30–6 p.m. Booksigning with Mario Batali
6–6:45 p.m. Cooking Demonstration featuring Mario Batali and Daphne Oz
7–8 p.m. Cocktail Reception hosted by Mario Batali  and the Edible Academy Chairmen, supported by Whole Foods Market®
Location: The New York Botanical Garden Ruth Rea Howell Family Garden Bronx River Parkway (Exit 7W) and Fordham Road, Bronx, New York
Comments
comments