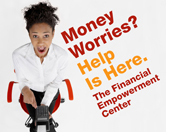 It's hard to find anyone right now who isn't experiencing some kind of financial trouble. Whether you owe money or just aren't able to save, everyone is feeling the effects from our economy's current situation. While it is easy to make goals and try to budget yourself, sometimes it takes another person to look at the money you spend and let you know what you can do do different.
The Financial Empowerment Center, located in Melrose, opened its doors in June 2008.  Open to all boroughs, the Center offers the option so schedule one session or several sessions, as needed. These sessions can help with:
• Money management and budgeting
• Financial planning
• Credit and debt counseling
• Support for dealing with creditors
• Affordable banking services
• Government benefit screenings
• Strategic referrals to other services and organizations
The Center is part of Phipps Community Development Corp., which also offers lots of programs at different locations. Check out the site for more information.
To schedule an appointment with a financial Counselor:
Financial Empowerment Center in Melrose
at the Phipps Opportunity Center
Third Avenue at 159th Street
Bronx, NY
(347) 329-3929
Comments
comments